Are you tired of seeing the same old boring banner or sign designs? At Signs World Wide we offer free custom design to help turn the boring into eye-catching advertising. Are you looking for a Grand Opening Banner, Now Open sign, or something for an upcoming Christmas sale? All you need to do is supply us with basic information like the type of sign you are looking for, the size, the message you are trying to convey and we will take it from there.
We have over 20 years of experience identifying and emphasizing particular elements of customers' messages to help get them across to the viewer. Do you like retro designs? At Signs World Wide we can do that! Type "retro" into the "search products" area on our site to see some stock banner designs that can be customized by our design department.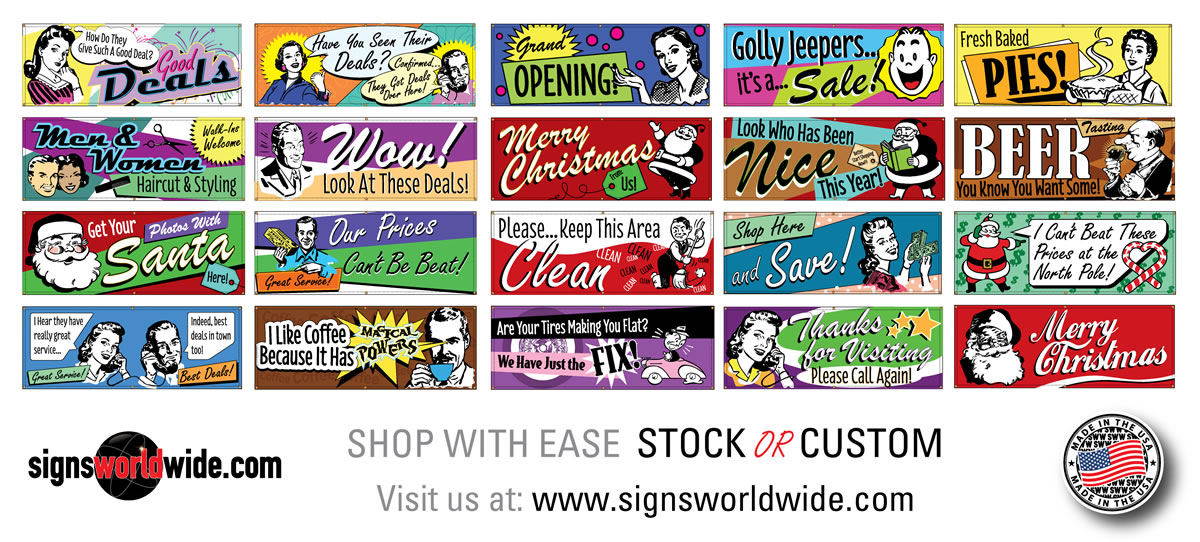 Do you prefer simple banner or sign designs? We can do that too!
Feel free to contact us about your particular sign needs and get quality products fabricated by American workers for reasonable prices at our Austin Texas facility. We offer many stock banners along with the ability to customize banners and other sign products to your specifications.
Feel free to browse our stock products under "shop sign categories" on our website (https://www.signsworldwide.com) or contact us for a custom product here:
https://www.signsworldwide.com/customization-process/
Our hours of operation are Monday – Friday 8 AM – 5 PM Central time.
info@signsworldwide.com
1-844-744-6799
1-844-SIGNSWW
We appreciate your time and your business!
All of the signs manufactured by Signs World Wide are made in the United States of America.